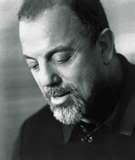 I got to go to the Scottrade Center to see Billy Joel (Thanks, Jean!!!). I have never seen him live before - despite my slight obsession with him in high school. He sounded great! We were not disappointed (maybe just a little - he didn't play Uptown Girl).
My nosebleed has finally stopped (the seats were WAAAAAY back).
The accoustics were awesome.
I thought that it was funny that he was wearing those black, orthopedic tennis shoes that guys his age often wear.
He was an entertainer!